By John Mugisha;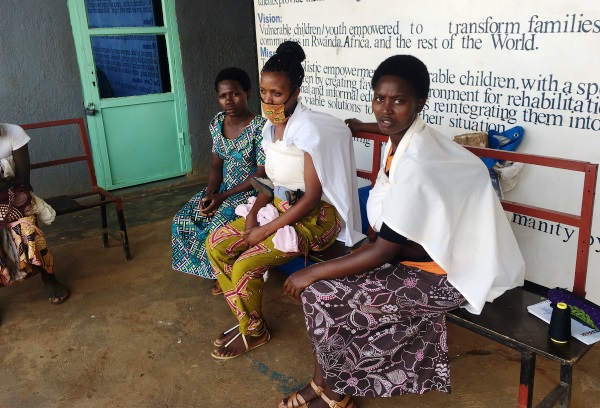 Twenty-year-old Jeanette Mukanoheri conceived at the age of 17. When she got pregnant, her family and the neighbourhood could barely accept her; everyone at home was rude to her. She felt frustrated and decided to leave her parents' home and go stay with her grandmother.
The man that got her pregnant abandoned her as well, denying that he was the father of the baby.
"The man who impregnated me denied that he was responsible, he told me to wait until I give birth so he could determine if the baby looked like him or anyone in his family. He still denied the baby and has never supported me in any way," Jeanette narrates.
Jeanette later joined the Love for Hope Ministry (LFHM), a local NGO based in Bugesera District having heard they were offering help teenage mothers and other vulnerable groups through counselling and skills development in tailoring, catering, crocheting and hairdressing.
While undertaking the skills training, the adolescent mothers were put in different groups to participate in other activities like teaching them to make savings.
'Amatsinda yo Kuzigama' meaning savings groups were introduced among these adolescent mothers comprising of 15-30 members. Everyone was asked to join a group depending on the same area or skills they were undertaking and there are four groups now.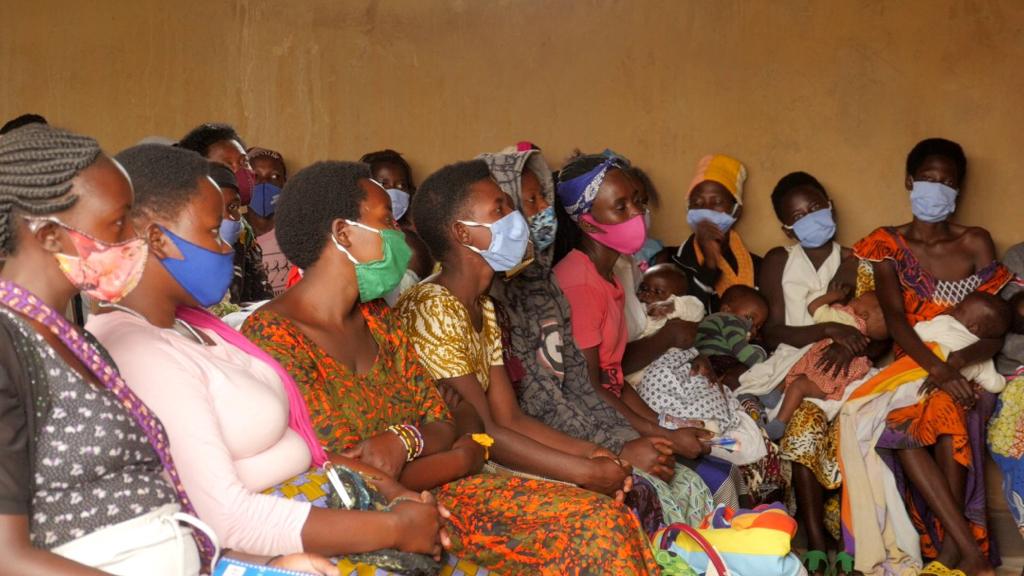 Tuzamurane group (meaning Solidarity group for strengthening ourselves) where Jeanette belongs initiated a savings scheme comprising of 26 members; they started by each person saving Rwf.200 per week and members can borrow from this fund to start small income generating activities.
"Although I was hesitant at first, I took a loan of Rwf.20,000 and bought three rabbits at Rwf.6,000 and then sold them for a Rwf.1,000 profit off of each one, this opened a business opportunity for myself where I would buy rabbits, green bananas and mangoes among other things from my neighbours and resell them for a profit at big markets," notes Jeanette.
Over time, she has borrowed Rwf.50,000,not only was she able to pay all of it back, she also made a Rwf.70,000 profit within a period of two months.
"Love for Hope has given me the greatest gift ever, to have hope again and plan for a future," she says. "Before training in skills development and joining the savings group, my vision could only see up to the next meal through digging for others. Today, I have a plan of what I want my future to look like. Not only have I been able to provide for my family, I have also been able to have a positive impact on my community by employing one person to help me in my business."
I want to keep growing as a businesswoman so that I can continue to inspire those who have fallen victim of early pregnancy in my community." Jannette said.
Other adolescent mothers in this group say this initiative has opened their eyes and changed their mindset to start focusing on being financially empowered.
Being a part of this group has brought back hope for Ruth Giramata, 18, a member of Inkomeza Mihigo group (meaning Sustainability in our objectives). She is glad to be part of a group of the adolescent mothers who have gone through the same experience and would therefore understand her.
Giramata's group has 30 members with total savings of Rwf.470,000. The average loan size is Rwf.80,000. They say the money is small but has made a huge difference in their lives.
"Through my group, I have learnt business skills and my self-esteem has been restored. I got a loan of Rwf.80,000 from the savings group and invested in breeding local chicken of which I bought 16 chickens at Rwf. 40,000. I earned some good profits, paid back the loan and my farming activities continue," she narrates.
Giramata explains that is now able to provide for her 2-year old son and her grandfather who she lives with.
These young mothers have all faced challenges associated with early and unwanted pregnancies which unsettled their already fragile lives.
Milliam Uwizeyimana, 23, from Kibungo cell, Ntarama Sector in Bugesera District has a 7-year daughter now in Primary 2. She says that when you give birth at a young age and out of the wedlock, you are stigmatized by your community but when you have someone to talk to and share ideas amongst yourselves, it helps emotionally.
Uwizeyimana is the Chairperson of Twuzuzanye (meaning Complementarily in our group), a savings group to which with the skills training she attributes her wellbeing and that of her colleagues.
"The trainings to learn new skills empowered us in many ways as we learned and are now self-reliant, we feel financially empowered and can't chase after men who impregnated and abandoned us. Now we can take care of ourselves," Milliam shares.
Since 2020, a total of 124 vulnerable adolescent mothers have received vocational, entrepreneurial and financial training giving them the opportunity to earn their own money work together and save for their future.
As a result, many of these young mothers have formed savings groups where they work as a team and two of the savings groups have so far opened up restaurants with the profits shared between them.
"We as members of Twuzuzanye, have been saving for a period of two years, last year the group decided to start a restaurant in our area, this was inspired by some having acquired catering skills which is helping in the kitchen," explains Uwizeyimana.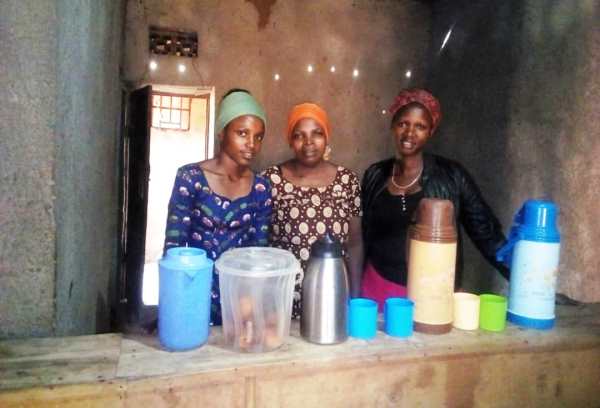 Twuzuzanye group with 15 members accumulated Rwf.936,000 in two years from their weekly savings of Rwf.300 and used the money to buy utensils, foodstuff and rent. The earnings from the restaurant are shared between members every three weeks.
Egide Ruzindana, the Executive Director of LFHM observes that the objective of Amatsinda yo Kuzigama programme is to empower adolescent mothers teaching them to start some income generating activities and teach them how to save.
"They will get life training skills for six months, we plan to get also start-up toolkits which will enable them to improve their income and become financially confident mothers," said Egide.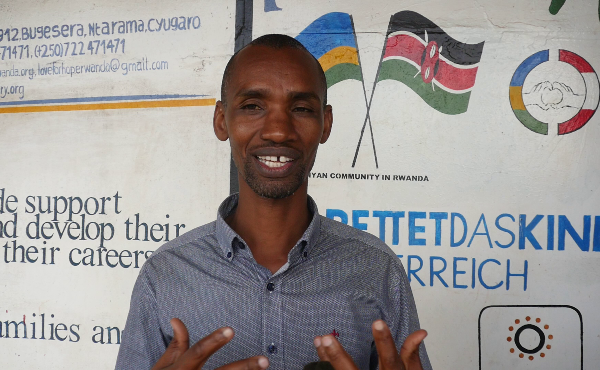 As Covid-19 pandemic struck the groups workings and gatherings were also restricted and this greatly affected them briefly paralysing the savings initiative.
"We largely rely on the physical meetings and the exchange of cash which was both initially restricted and some members went far places to be with their family. As restrictions are lifted we have regrouped but our savings capacity was reduced, to17 members out of the 26 as initially we were" observes Jeanette.
It reduced by how much? Or what led to the savings being reduced?
"The reason why the other 9 members haven't been able to return is given the fact that during the lockdown due to covid-19 prevention measures that restricted movements, 5 of our members who were caught up in their home districts got pregnant again but are leaving with their husbands and for the other four are now in Kigali having gotten work to do there. We are yet to give them their share of savings as the committee is to decide that in February, nevertheless we the remaining have agreed to add 100rwfs on the 200rwfs savings per week we previously were contributing as we felt we can afford it with effect from 30th.January.2022." added Jeanette.
According to Ruzindana, the groups have some challenges mainly on members who fail to pay back their loans on time.
"Collection of loans is conducted through the group meetings and disbursements are also made in the presence of all group members since they guarantee these loans collectively. With some failing to pay, it has a very big negative impact on the group,"Ruzindana said.
This story was first published in Rwanda News Agency